Import Case- How to Hande Shenzhen Customs Clearance for Leather?
Animal skins, after being unhaired and tanned, become denatured and non-perishable. When furtherly trimmed, there we have finished leather. Products made of leather have a special grain surface with nature texture and lustre and comfortable touch feeling. Leather is widely used in furniture, shoew, bags, and belts, etc,. In terms of import quantity, cattlehide, sheep skin, snake skin, and crocodile leather are the top four. Seahog logisticsí» Shenzhen customs broker team, recently helped import and clear a shipment with sheep leather from India via Huanggang port, a land port in Shenzhen which one of the ports that goods entry and exit between Shenzhen and Hong Kong. As pictured below is the customs declaration sheet.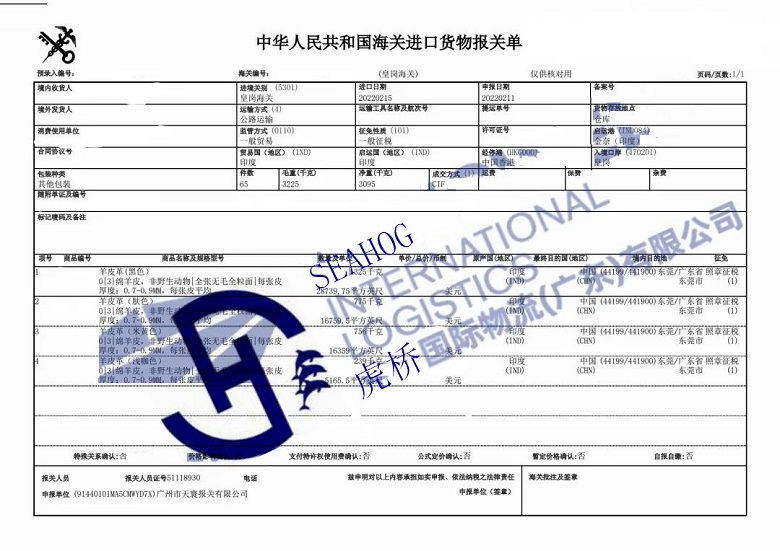 As a China customs broker that have been very active in importation logistics and customs clearance in China, Seahog would like to share the import flow and required documents of leather.
The import flow of leather
1.Arrange shipping to destination port of China
3.CIQ and customs declarations (noted goods like wet-blue hide shall wait bill of entry first )
4.Arrange tax payment when the tax bills
Required documents
The import of common dried leather (non-endangered species) needs sales contract, invoice, packing list, sea/air waybill and certificate of origin. The import of wet leather is more complex as the quarantine requirements are more strict. Animal Quarantine Certificate or Veterinary Sanitary Certificate
We have years of experience and a large service network. We are
Tianjin customs agent
, Qingdao port customs broker,
Shanghai customs clearance services
provider, Ningbo customs clearance agent, Xiamen customs agent, Guangzhou customs broker, Shenzhen customs clearing agent. Our China customs clearance services are also available at Beijing airport, Chengdu airport, Kunming airport, Zhengzhou airport, Kunming airport, Shanghai airport, Shenzhen airport, and Guangzhou airport. Welcome to send us inquiry.

Related Reading: