How to Handle Customs Clearance for Imported Rare Earth In China?
We often receive inquiries about importation of rare earth. Can rare earth be imported to China? How to import and how to handle customs clearance in China? What documents and info shall be provided? As a Guangzhou customs broker with over 20-year experience, we hereunder answer the above questions and share the customs declaration form of a rare earth shipment we cleared in 2020.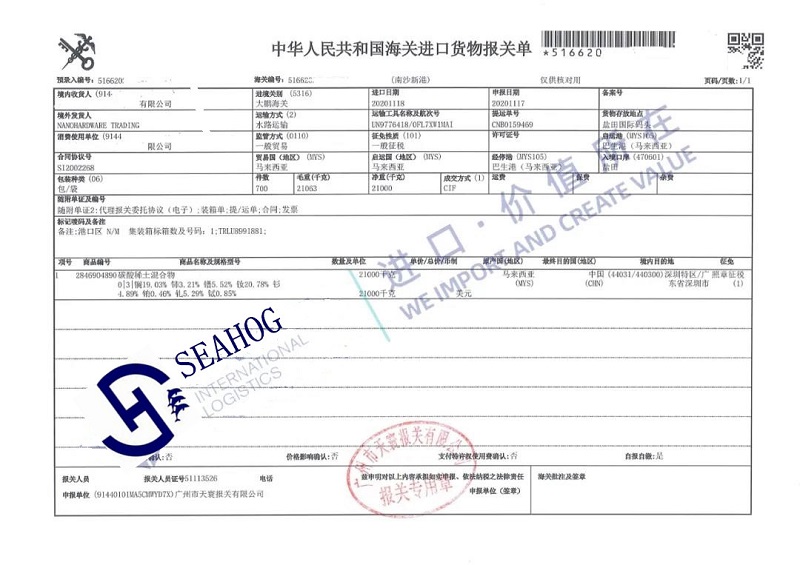 Required Documents & Info
the consignee or their agent in China shall have import right
Sales contract, packing list, invoice, sea/air way bill, MSDS, certificate of analysis, certificate of origin are required.
1.Consultation and confirmation
First of all, it is important to confirm if above documents can be provided.
Secondly, when the HS code is confirmed, we will know whether automatic import license shall be obtained, and whether CIQ inspection is required.
2 Sea Freight
Arrange sea freight to China. When the shipment arrives, the shipping line will inform the consignee by email or by call to exchange D/O.
3 CIQ Declaration & Customs Declaration
When manifest info is available at customs system, the customs broker shall proceed CIQ declaration and custom declaration. For rare earth that needs CIQ inspection, the broker shall submit documents for CIQ declaration.
4 Document Review
After CIQ declaration done, customs declaration shall be proceeded. And the above mentioned documents shall be submitted for customs review.
5 Price Verification and tax bill issuing by Customs
China customs reviews the declaration documents and verify the declared prices. Customs system will automatically compare the declare prices with the previous declared prices of the same products. If the declared prices do not have big difference with previous declared prices, China customs will issue tax bills and collect taxes based on the declared prices.



6 Inspections & Pick up