How to Do China Import Customs Declaration for Imported Copper Ore?
Copper mainly exists in compound form in the earth's crust. There are more than 200 varieties of copper-bearing minerals in the nature. The common copper minerals can be classified to natural copper, sulphide ore and oxidized ore. Natural copper is rare in the nature, while sulphide ore is the most widespread and thus becomes the main raw material for copper smelting.
As pictured is the copper ore that we, as a professional China customs broker, helped import for one of our clients.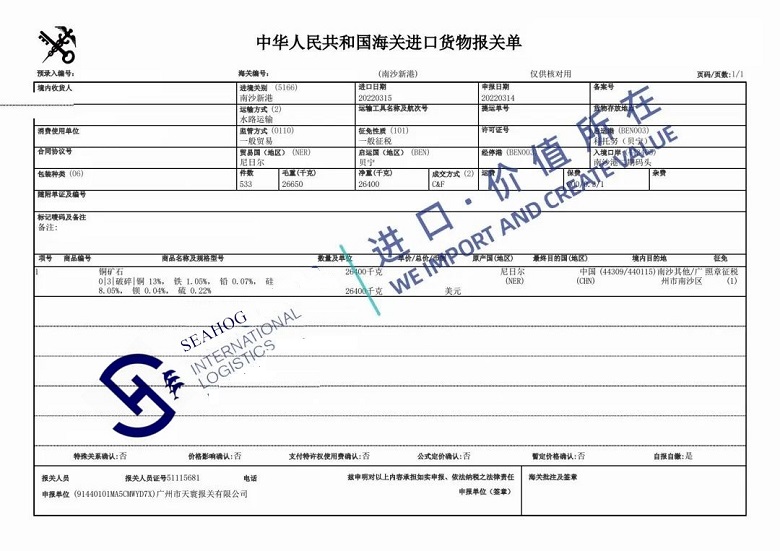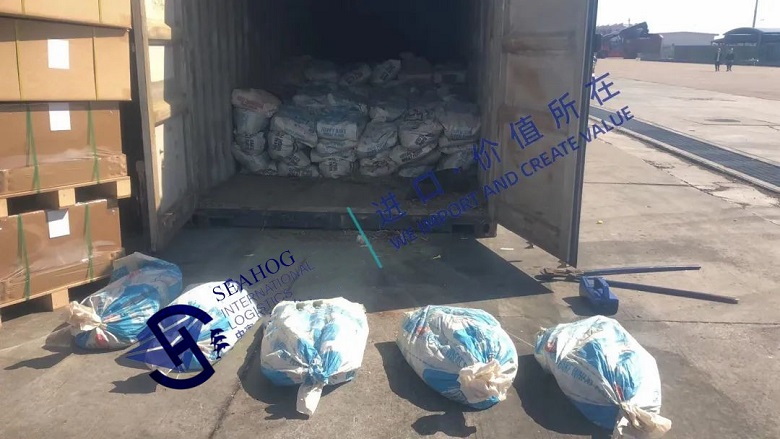 1. invoice, packing list, sales contract
3. test report (quality certificate, weight certificate)
4. automatic import license
5. the explanation for type of pricing
The declaration elements of copper ore
5. source ( country of origin and name of mine lot)£»
8. need secondary settlement or not£»
10. with or without demurrage charge¡£
China customs¡¯ supervision methods on imported copper ore.
01 watching ¨C appearance inspection
China customs will observe the shape, particle size and color of the goods. Copper ore with good quality normally has uniform color, even texture and charming glows, and looks clean and pure. If copper ore is different in colors and shares and is dim and dark, it may have low quality and may be solid waste. The customs inspector can make preliminary judgment on whether the imported copper ore is consistent with the declarations and whether there exists risks of solid wastes by examining the colors, particle size, mix status.
02 smelling the goods closely
Metal minerals are mainly mined from natural ore veins. They smell metallic and natural. If smell pungent, the subject ore is probably slag that has been vulcanized and processed.
China customs will check the source, mining and processing status with the consignee to know the past and present of the copper ore. The global distribution of mineral resources is very uneven. The source can indicate the quality roughly.
Pulse taking is to make a comprehensive analysis based on the above circumstances and the test results from laboratory tests and make a correct conclusion that whether the quality and enviroment-protection indexes are up to national requirements. The testing items mainly include
China customs will draw samples from imported copper ore and copper concentrates based on relevant standards and do testing on the copper content, moisture and other quality items.
China customs will , in accordance with Customs¡¯ Working Regulations on Radiographic Testing, inspect and check if imported copper ore meets the requirements of The Natural Radioactivity Limits for Nonferrous Metals Mineral Products.
Risk Screening of Solid Waste
China customs implement risk screening of solid waste on imported copper ore in accordance with laws. Customs inspectors will draw samples of goods with high risk at solid waste aspect found by inspection order or on field and send to laborotory for solid waste identification.
Limits of poison and harmful elements.
For imported copper concentrates, China customs shall, in accordance with the requirements of the Announcement on Limit for Toxic and Harmful Elements inImported Copper Concentrates, do environment-protection testing on the toxic and harmful elements and check if the limit meets the Limit Specifications of Harmful Elements in Heavy Metal Concentrate Products


Related Reading: