China: Import Tariffs of  Daily Consumer Goods Lowered by An Average of 50%+
From June 1, 2015, the import tariffs of daily consumer goods (skin care products, for example) will be cut by 50%+

From that day, China will reduce the import tariff rates for part of daily consumer goods, including clothing, shoes and boots, skin care products. The average reduction rate exceeds 50%. This is the largest tariff adjustment, in both range of reduction or coverage scope.

In May 25, National Treasury announced that, Import Tariff Reduction experiment would be open on part of daily consumer goods that domestic consumers have huge demand of, according to the decision of executive meeting of the State Council. For this purpose, Customs tariff Commission of the State Council did research, put forwards the experiment scheme, submit to the State Council, and obtained approval that from June 1, 2015, our country will lower the import tariff rates of part of daily consumer goods. The benefited goods includes clothing, shoes and boots, skin care products, and paper diapers. The average reduction rate is over 50%.£¨below is the details£©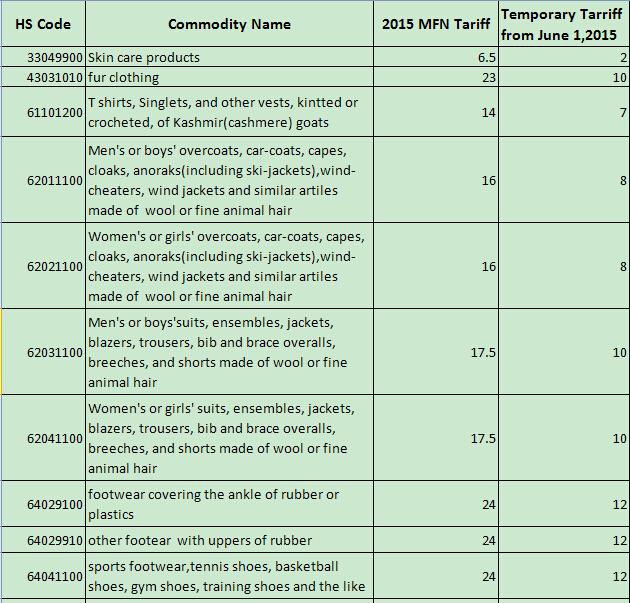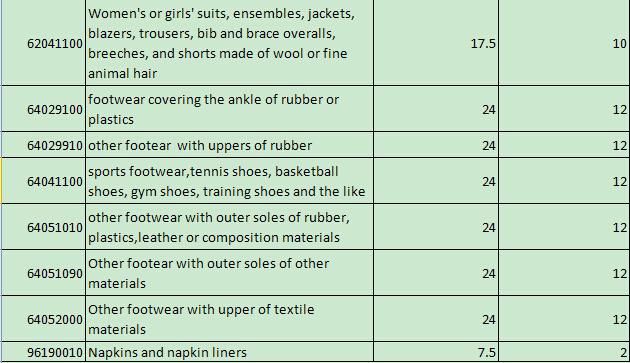 In this adjust, the import tariffs of business suits and fur clothing will be lowered from 14%~23% to 7%~10%, tariffs of ankle boots and sports shoes cut from 22%~24% to 12%, tariffs of paper diaper reduced from 7.5% to 2%, and skin care products dropped from 5% to 2% . By far, our country has lowered the import tariffs of clothing, shoes and boot, skin care products, baby and infant food and supplies, kitchen cookwares, tableware, and spectecle glasses, which aims to promote consumption and import people¡¯s livelihood.

Many importers claim that this tariff reduction is quite big, and is the largest one in recent years. It will save quite a big costs for them.

Seahog, as the leading customs clearance agent in China, sums up as follows

Thanks to this tariff reduction, the total tax amount can drop by 10%, which means the terminal price can surrender 10% of the profit.

Take the paper diaper whose CIF is RMB100 per bag for example, each bag can save RMB5.5 cost after tariff reduction.

Along with the tariff reduction, importers will show strong desires to reduce prices as as to compete with cross-broader E-commerce which is their biggest competitor with obvious price advantage. If general traders do not cut prices, they will further lose customers against cross-broader E-commerce.

Further more, importers will have more choosing alternatives. With this tariff reduction, the import tax amount of skin care products imported via general trade will probably lower than that of cross-broader E-commerce import. In this case, cross-broader E-commerce will not have price advantage any more. Then importers will not always choose cross-broader E-commerce import. They will stick to or shift to general trade instead.

Yet, cross-broader E-commerce is hottest this year. Tariffs being reduced on part of daily consumer goods though, the advantages of many other goods imported via general trade is still not obvious. Because for cross-broader E-commerce, China implements line post tax, the tax rate for most goods is 10%, and exempts tax amount less then RMB50.